Beyond Service
Rethink the service you expect from your commercial, industrial and institutional electrical contractor in the Oshkosh, Fond du Lac, Waupun, Ripon and Sheboygan areas. You deserve a local partner who puts people first when it comes to protecting your business.
Building Relationships
Shea Electric & Communications, LLC, knows electrical contracting and business communications networks — from wiring, cabling and lighting to security system and fire alarm system installation. When you work with us, you can expect a deeper, longer-term value that comes with decades of team experience in commercial, industrial and institutional electrical contracting.
Experience our long-term approach to customizing the safest, most aesthetic design. Contact Us Today.
People First
We're driven by a passion to grow — as a business and individuals. People simply come first in our mission to serve our clients. We're always learning, so we can provide clients the right solutions to protect their business. We promise you'll experience our people-first approach every time you work with us.
Our Partners Choose Us Because
We are on the forefront of emerging electrical, communication and security markets, products and technologies to provide advanced solutions to our Partners.
We are responsive to our Partners needs and ensure they are met.
We have our Partners best interest at heart and make decisions accordingly.
We take responsibility for exceptional communication with our Partners.
We develop meaningful relationships with our Partners.
We have outstanding people who are extremely good at what they do and present themselves well to our Partners.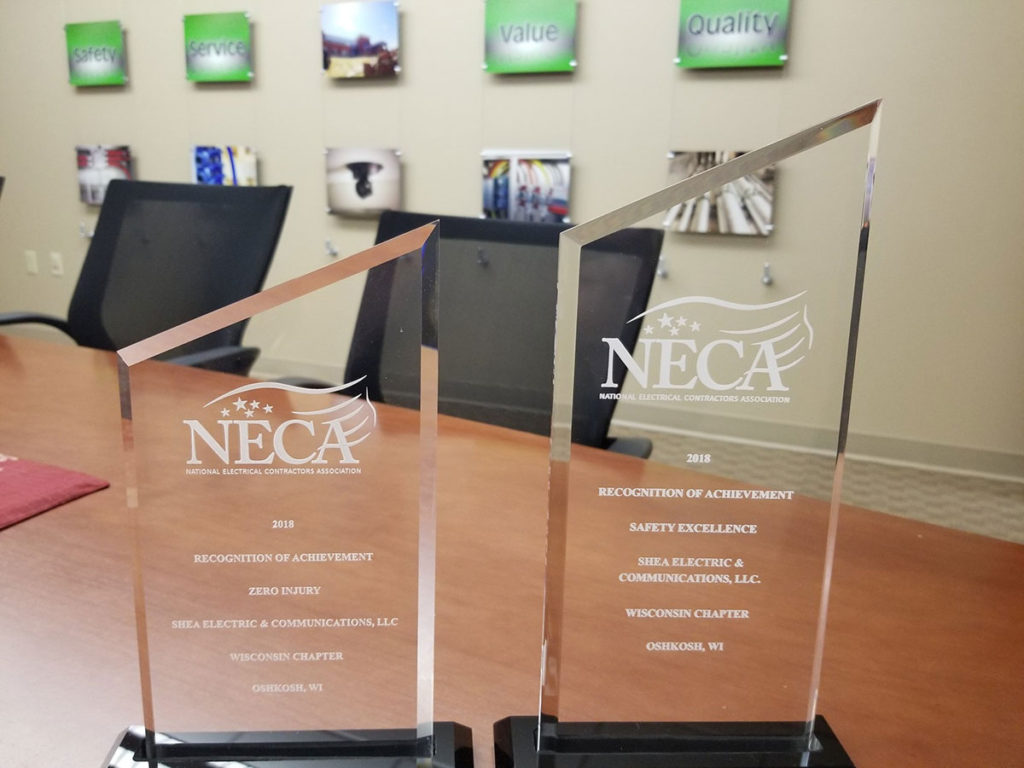 Shea Electric & Communications' Promise
Shea Electric & Communications will always do the right thing for our employees and Partners, keeping their best interests in mind both now and in the future.
We will cultivate a mutually respectful relationship where both parties are mindful of each other's goals and objectives.
We will be an educational resource for our Partners.
We will provide quality installations and solutions that meet our Partners long-term objectives.
We will ensure the safety of all parties involved with our work.
Our Intolerables
Lack of integrity
Disrespectful behavior to others
A negative attitude
Anything less than a strong work ethic
Not treating safety and well-being of people as their top priority
Shea Electric & Communications' Giving Philosophy
Shea Electric & Communications is proud to support opportunities where our funding can have a significant and measurable impact in the communities we serve.
Focus
Shea Electric & Communications focuses on three specific funding areas, supporting programs that;

Promote and mentor youth through apprenticeship opportunities and organizations that provide programming for youth.
Strengthen Communities through economic development, small business development, regional business development and community events.
Support the underserved through community initiatives, events and educational opportunities.
We seek to partner with established 501(c)(3) organizations with programs that strongly align with one or more of the above funding priorities.
Shea Electric & Communications considers sponsorships from a wide range of organizations and encourages creativity and innovation to develop partnerships that benefit both community organizations and our company.
Application Process
All donation and sponsorship applicants must complete and submit an application for your request. The application will be assessed by Shea Electric & Communications leadership to determine whether or not your organization or program is closely aligned with our funding goals. Meeting our eligibility criteria does not guarantee you will receive funding, as we receive many requests for funding.

A Shea Electric & Communications representative will contact applicants whose submissions are most strongly aligned with our funding goals to advance to the next stage of the process.
For questions, please contact Shea Electric & Communications at 920-303-9380